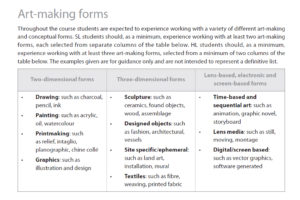 Overview
Students taking IB Photo must be responsible for pursuing the other art media in the above columns. If you are doing SL, you need to have college level mastery in one other art form, if doing HL, then college level mastery in two other art forms.
What is highly recommended is that you do not take on too many art mediums. It is fine to experiment with diifferent media, but you don't want to become a "jack of all trades and master of none." Choose one or two mediums and spend the time rendering those skills.
This is very important: because you are doing this work on your own, you will be required on several occasions, to produce your art in front of me. This can be done either by bringing the art into the classroom or you taking video of you making the art. This is a requirement of IB – I have to verify that I have seen you producing the work.
You will turn in a portfolio of your best work at the end of term one of your junior year (work submitted would come from one or more of the method options you choose below). You will need to continue to work on your art throughout the rest of your time in the IB course, as certain assignments will be ask for new work from another medium. For your senior year, we will decide the best route depending on how good the art has been that you have produced, whether you are doing HL or SL, and the direction your work may will be taking at that point.
There are several ways to approach this:
Take a visual fine arts course here at NPHS
Take art course(s) at a college
Connect to an art production studio in the area and work continiously with the studio to produce art works
Work with a private art instructor
Do It Yourself (DIY)
Find instructional tutorials in books, online or elsewhere that teach you how to master art skills (I would much prefer you work with a professional, but this is an option and I have had some students do this with success – others – not so much. It takes a great deal of discipline and creativity on your part)
__________________________________________________
Option One – Art Classes at NPHS
See your counselor about scheduling a class
Choices: Art Media, Color & Design, or Eco Art
(Drawing/Life Drawing is an option – but must have prerequisite or teacher approval to enter)
__________________________________________________
Option Two – College Course
This course is recommended to be taken the summer before your junior year. You can take it in the fall of your junior year if that works better.
Moorpark College
Below in yellow is a link for 2021 Summer School Courses at Moorpark College. Oxnard and Ventura College are not offering any courses that would work.
The ones you can take are:
Art M30
Art M43
Art M70
Go to this webpage and select "all" for the Subject and "Moorpark College" for the Location and then the catalog of courses will appear – scroll down to the art section and you can get a description of the courses.
There are other colleges out there of course. Whatever course you decide on, I would need to see a course description. You can ask your counselor for help in seeking out online or in-person courses.
__________________________________________________
Option Three – Art Production Studio
If you go this route, it is crucial you present a plan to me of what you are going to pursue. These studios do not typically offer a great deal of sustained instruction. They are great places, don't get me wrong. But much of what they do are one day or couple hour classes. Some classes may go for longer, but would likely not be at the depth needed for a sustained body of work. However, if you plan things right by working with me and the facility, I think you could pull it off.
Create Studio
Create Studio is in Westlake Village. This studio is for making art with repurposed materials. Here is the website:
Art Trek
Art Trek is located in Newbury Park. They offer a variety of classes. See website for options and feel free to contact them adn explain what you are looking for.
__________________________________________________
Option Four – Private Instructor
I am in the process of looking for reputable art instructors
__________________________________________________
Option Five – DIY
You will need to present a proposal to me of how you are planning your own curriculum. This will need to be in writing.