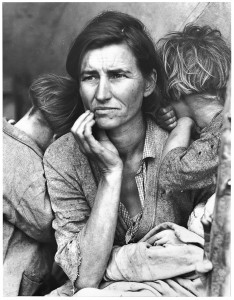 Migrant Mother
by Dorothea Lange
Student Sample Research Papers:
Resources
Here are many historic photos that you may choose from (this is a list I have generated):
Here is the link to Pulitzer Prize Winning (and Finalist) Photographs
These are articles on photography and controversy that arises in this art:
http://www.nytimes.com/2009/06/04/arts/design/04abroad.html?pagewanted=1&hpw&_r=0
http://www.nytimes.com/2011/05/07/world/middleeast/07photo.html?pagewanted=all
Remember!
You are not limited to the images and topics listed above. You can find images not listed here. The photo just has to be historically significant within a large audience.