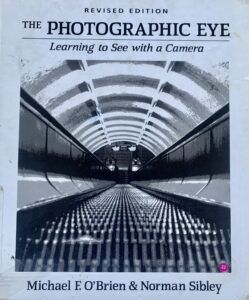 The Photographic Eye is the textbook we will be using for Photography One.
Here you will find the chapters in PDF form and you will find the questions for each Chapter.
How to respond to the questions?
First, you must answer every question listed. If you don't you will receive a zero for it being incomplete and can make it up before the final deadline.
Second, you must answer the questions yourself. If it is found that you copied form another student, it will be treated as academic dishonesty and consequences will follow.
You do not need to answer in complete sentences.
The easiest way to answer these questions is to copy and paste the questions into the Text Entry form on Canvas and then answer by typing in your responses. However, if you do it this way you must complete the draft all at once as the Text Entry will not save a draft. So it is recommended you copy and paste the questions and type answers into a Google or Word Doc and upload the document to Canvas.
This video tutorial shows how to turn in text assignments on Canvas for this class
You may answer the questions on lined paper in pen/pencil. If you do this then you will need to scan or photograph your responses and upload it to Canvas.
______________________________________________________________________________
Chapter One – History of Photo
Reading:
Questions:
__________________________________________________
Chapter Two – Tools
Reading:
Questions:
__________________________________________________
Chapter Three – Composition
Reading:
Questions:
__________________________________________________
Chapter Four – Critical Eye
Reading:
Questions:
__________________________________________________
Chapter Six – Line
Please note: Chapter 5 is included in this reading, but you are not required to read it. Scroll down to Chapter 6 in the document
Reading:
Questions:
__________________________________________________
Chapter Seven – Texture
Reading:
Questions:
__________________________________________________
Chapter Eight – Shape
Reading:
Questions:
__________________________________________________
Chapter Nine – Light
Reading:
Questions:
__________________________________________________
Chapter Ten – Motion
Reading:
Questions: