Assignment: Choose your best Texture
images and edit them as instructed in the tutorial.
Label the album like this: TEXTURE DIGITAL EDITS
You will be editing in Photoshop or Photopea
Compositional focus:
Keep in mind:
SIMPLICITY
RULE OF THIRDS
DYNAMIC USE OF
LINES
(as needed)
BALANCE
FRAMING (as needed)
AVOIDING MERGERS
.
Here is a sample album done by Mr. Lindroth:
Tutorials
Below you will see all the tutorials needed to complete this assignment
The editing you will be doing:
Straightening and Cropping Image (as needed)
Adjustment Layers:
Levels
Black and White (if desired)
Dodging and Burning
Tutorials below include:
How to get images downloaded from Google Photos and open into Photoshop/Photopea and then getting edited images onto Google Photos and arranged in the proper order in your album.
How to do do basic editing in Photoshop and Photopea
Photoshop Users:
Here is the Basic Editing in Photoshop Tutorial in a PDF form:
Here is the table of contents for this PDF above: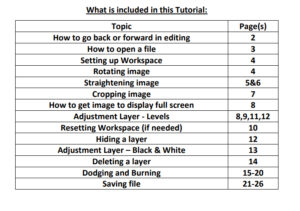 ______________________________________________________________________________
Photopea Users
Link to Photopea
Tutorial four: This tutorial shows how to do basic editing in Photopea (also how to open files and how to save files).
Here is the PDF of this Tutorial:
What is included in this tutorial: