Free Choice Assignments are designed for the student to have choice in the subject matter and technique used in the photos.
There are several options for Free Choice:
Option 1: Revisit Advanced Projects
Complete one of the Advanced Projects of your choice here are links to those webpages (must do the number of images required for that technique as described on each webpage):
Click on the links to be transfered to these webpages
Option 2: Two Darkroom Prints
Turn in two darkroom straight prints (meaning just printed normally without any manipulations) No contact sheet required
Images by Molly McNulty
Option 3: Digital Photos
Option 3A:

Turn in 10 well composed digital photos with basic editing
Images by Eric Lindroth
Or
Option 3B:

5 digital photos edited WITH SPECIAL EFFECTS on a smart phone editing app. Snapseed (see below) is a free app with a lot of options. Selective Color Photo Effect (see below) costs a small amount but is quite effective. There are many others. MUST TURN IN THE BEFORE EDIT IMAGE ALONG WITH EDITED IMAGE FOR EACH.
Images by Eric Lindroth
You may use new exposures or exposures you have turned in before AS LONG AS THEY ARE EDITED IN A DIFFERENT WAY.
Say I turn in the images on the left for one assignment and then for free choice I edited them like the ones on the right, then that is fine. These two we edited on Snapseed.
Snapseed App
Here is a video about Snapseed. It is a free photo editing app from Google. I highly recommend it.
Here is an album of images I edited with the app. There are images before the edit shown and the image after using various filters and image enhancement features.
Selective Color Photo Effect App
Here is one available on Apple Mobile Devices. It is for Hand Painting (Selective Coloring). You can download from the App Store.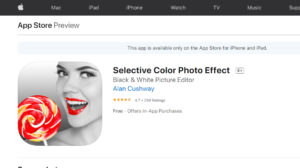 Option 4: Digital Touch up of Darkroom Photo(s)
You can scan darkroom photos and touch them up. The number of images you wil be required to do will depend on the amount of touch up required. Generally this is one-three photos. These must not be touched up photos you have previously turned in for a grade.