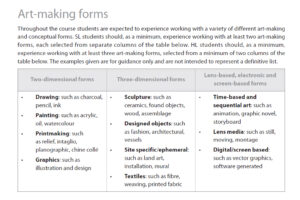 IB Students are required to pursue, in great depth, at least one other art media form for SL and at least two for HL. This work is turned in the junior year as one large portfolio. The student can choose if this work is submitted the first or second term.
This is worth 35% of the grade for the selected term. The portfolio is evaluated by both Mr. Lindroth and Ms. Lee.
Some of this work must be in the art journal entries and eventually in the Process Portfolio. Work should be documented as it is being created. So take photos of the pieces as you progress making them.
Students must pursue this work on their own either by taking college course(s), working with a professional artist in private lessons, or pursue the work on their own.