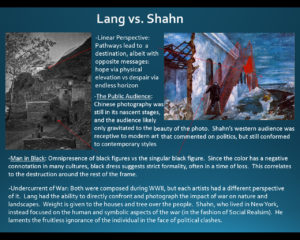 Screen from Albert Qian's Comparative Study
Task summary
The comparative study is an externally examined assessment task worth 20%.
To complete the task, you are required to present a comparative study of at least three artworks by at least two different artists from different and contrasting cultural contexts. The work should be selected from work you have investigated as a part of your independent coursework, and will be explored further and presented as a series of screen-based slides.
Comparative Study information (provided by IB)
These are the questions you need to consider when creating this project: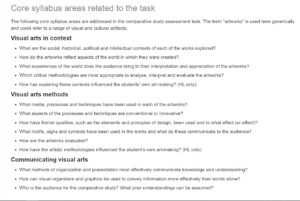 Formal requirements
SL
SL students submit 10–15 screens, which examine and compare at least three artworks, objects or artifacts, at least two of which need to be by different artists.
The works selected for comparison and analysis should come from differing cultural contexts.
SL students submit a list of sources used.
HL
HL students submit 10–15 screens, which examine and compare at least three artworks, objects or artifacts, at least two of which need to be by different artists.
The works selected for comparison and analysis should come from differing cultural contexts.
HL students submit 3–5 screens, which analyse the extent to which their work and practices have been influenced by the art and artists examined.
HL students submit a list of sources used
NPHS Students Comparative Study
Amy Petersen (2018) (SL)
Comparative Study score: 6
Rachna Deshpande (2017) (SL)
(scored high on Comparative Study Component) (SL)
Albert Qian (2016) (SL)
Overall score: 6
Kylie Kelleher (2016) (HL)
Overall score: 5
Hana Sugioka (2017) (HL)
Comparative Study Score: 7
Ms. Lee's student
Here are sample Comparative Studies (provided by IB):
Standard Level:
Higher Level:
Here are two other examples of Comparative Studies