Please click on these links to see strong examples of the the Art Journal:
These journals are well done in showcasing other art media:
The Visual Arts Journal
Throughout the course students at both SL and HL are required to maintain a visual arts journal. This is their own record of the two years of study and should be used to document:
• the development of art-making skills and techniques
• experiments with media and technologies
• personal reflections
• their responses to first-hand observations
• creative ideas for exploration and development
• their evaluations of art practices and art-making experiences
• their responses to diverse stimuli and to artists and their works
• detailed evaluations and critical analysis
• records of valued feedback received
• challenges they have faced and their achievements.
The Art Journal is a major and mandatory part of the IB evaluation. This information below is also in the IB Syllabus which can be found on the IB Photography Basic Information webpage (located on the left side bar).
You must include contact sheets in your Art Journal!
Use these instructions to make a digital contact sheet in Photoshop:
This is what a digital contact sheet looks like: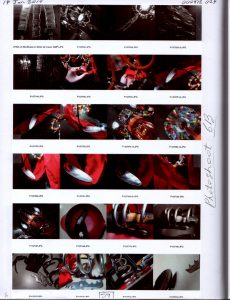 You must also include the Shutter Speed, f-stop (aperture), and ISO settings for each of your final images you include in your journal. See below image (you can click on the image to enlarge it)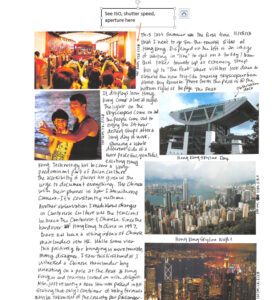 Photographer: Stephanie Lee
How to find the f/stop, shutter speed, and ISO of one of your digital photos?
For PCs: When you see the icon of your jpeg on your screen:
right click on the icon and go to Properties.

Click on the Details tab

Scroll down to the Camera section and you will find the info there

Click on the image to enlarge:
In Photoshop:
Click on File tab

Scroll down to and select File Info

Click on Camera Data tab. You will find the information there
Finding camera setting on flickr is easy. Some images that have been edited in a digital editing program may have lost this meta data.
Just open one of your photos and the camera settings data will display under the photo.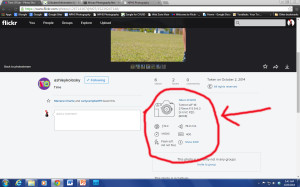 Sample Art Journal (from NPHS student Kat Light) and Explanation
Keep in mind Kat's was submitted for the the older assessment style, however, the information she presents would be pertinent to the new assessment criteria. The format is different now as it is highly suggested that you type your writing.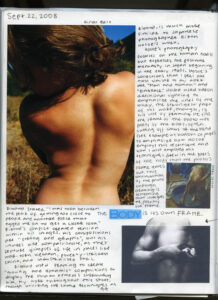 Please click on the link below to see Kat's Art Journal submission. Please keep in mind that this is the former format for IB Visual Arts (it was called the Investigative Work Book. Even still, the basic premise is the same so looking at these pages are helpful.
You can click on this image to see it larger. Notice how Kat intergrates her own work with the work of others from different time periods and different media. She has images of the human form: one of her own, one from Impressionist painter Mary Cassat, and one from contemporary photographer Eikoh Hosoe. Not every page you create needs to make so many connections, but the more you do this, the more it shows your ability to connect your work to the greater body of culture, history and art in the world.
To see more Art Journal examples go to the Sample Student IB Portfolios page
How do I approach the Art Journal?
1. First and foremost, this work is ultimately for you, so you should be researching ideas and concepts important to you. However, there are certain things you need to consider to score well in this section.
2. When you approach an image, idea or concept, consider some of these approaches:
Place your photograph(s) on a page
A. Give your critique and analysis of your photo(s)
B. Include other artists who work with the same concept or subject matter – compare to your work, critique their work, look up art criticism of these artists' works
3. Contextualize your photos within a more global perspective. What does global mean?
How is this concept understood or addressed in other cultures?
How do artists from other cultures address the concept? Be sure to go into depth on particular artists who work similarly to you. When you choose a concentration, focus on these artists and write about their techniques and then try them and show printouts of your experimentations.
Look at the concept within the historical, political, social, psychological, scientific, mathematical, economic, or familial realms of your own culture and/or other cultures.
4. When you do your contextual investigation, always bring it back to the art, particularly, your own art
5. This workbook is for experimentations, rants (if necessary), and sketches of ideas you have. Every page does not need to be a masterpiece. I highly encourage you to experiment with other media as appropriate to your investigation.
6. Include contact sheets of all your shoots. Write on them as needed. Go to this link to learn how to make a digital contact sheet on Photoshop: How to make a digital contact sheet
7. Try to incorporate as much of A, B, and C on one page as possible (or spread out across two pages). (A. your reflections on you own work, B. reflection and examples from other artists, and C. Contextualization) One of the main objectives of IB is to expand cross-cultural and cross- discipline connectedness…do this and do it often.
8. Vary the layout of your pages – make it interesting to look at…this art journal really becomes a work art in itself.
9. Use many different sources (magazines, books, and internet). You should also visit galleries. Be sure to cite all sources properly.
10. Use the vocabulary of art in your writing constantly!
Film and Darkroom Journal Entry Guidelines: