IB art students – honorary IB photo students
Here is the packet on Camera Tools and Functions
Assignment One: Camera Boot Camp
We will do a selection of assignments from this below. Mr. L will talk you through them.
Assignment Two: Basic Editing on Photoshop (and Lightroom if you choose)
Be sure to take screen shots of your images open in this software. Mr. L will give directions on this to you as a group.
Assignment Three: Film and Darkroom
Shoot one roll of film, develop negatives, proof sheet and two prints. Mr. L or an AP or IB photo student will assist you with this.
Assignment Four: Edit your two prints on Photoshop (and Lightroom – optional)
You will can your prints to convert them to digital files. Be sure to take screen shots of your images open in this software to show your process. Mr. L will assist you with this editing.
Assignment Five: apply brush developer techniques to two darkroom prints
See this link for samples. MrL or an advanced student will assist you with this.
Assignment Six: Composite Image (photo/painting or drawing)
17 Artists Blurring the Line Between Painting and Photography
You will be creating a composite of one of your photos and your painting or drawing meshed with the photo. One of more of these artists would be good to include in your contextual research surrounding this image you produce. Be sure to take screen shots of your post-production work in Photoshop if you use this software.
Here is Suha Hussein's (NPHS, Class of 19)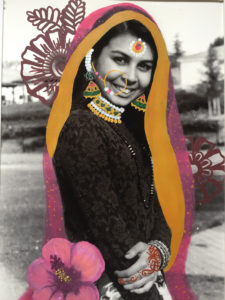 How to incorporate this into your art journal/exhibition:
Please realize that none of this work need be put into your exhibition, but if it works there – great! We had a couple students use their photography in their final show. Some or all of this work you do should end up in your art journal.
Here is what you should be doing with the work you create in these activities:
Create journal pages documenting the photos you took. Place the images you took in the class in your journal and put the aperture, shutter speed, and ISO you shot these images below the images (camera metadata).
Here is a great example of how to incorporate photography into your Art Journal. This is Delaney's Process Portfolio, so keep this in mind as your view it. This is not one Art Journal entry but rather a collection of her best pages. She scored the highest mark on this portfolio.
Production Concepts
You can discuss the processes you learned: shooting on manual mode, Av mode, and Tv mode. You can discuss the kinds of images you shot:
portraits with shallow depth of field (bokeh)
environmental portraits (large depth of field)
freeze motion
blur motion
pan motion
bulb exposure
Create a contact sheet of the images you shot for this shoot – this can be done on Photoshop or you may have another way to do this. Students will often just have their images displaying in a window on the computer and take a screen shot and use that for their contact sheet.
Go to this link to see how to put your camera metadata under your photos and to see how to create a contact sheet in Photoshop. This page is also has many sample IB Photo student journal entries:
Contextual Research
Some photographers to possibly look at for reference when discussing these camera techniques:
For texture, line and shape: Minor White, Edward Weston, Tina Modotti
For portraits: Imogen Cunningham, Annie Leibowitz, David LaChapelle, Yosef Karsh, Graciela Iturbide and many more
For motion: Henri Cartier-Bresson (look for "The Decisive Moment")
Also for motion photography: research the influence of photography on the painter and sculptor: Edgar Degas
In discussing the use of a large depth of field (small aperture): Ansel Adams and others in Group f/64
Post-Production Concepts
You need to show your process in post-production. This is done by taking a screen shot of your file open in Photoshop with the editing layers on display.
To see how to take a screen shot in Photoshop, click on this link. Scroll down a bit to find the instructions:
Student Sample Art Journals
Here are some IB photo students' Process Portfolios (the best pages from the Art Journal). These are good to look at to see how to approach the Art Journal in working with photography.
Here is a great video on touching up photos: